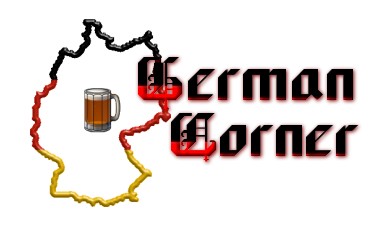 Main Dishes

Complete Meals




Bauernfrühstück
(Farmers Breakfast)
4 potatoes, medium
4 bacon; strips, cubed
3 eggs, large
3 tb milk

1/2 ts salt
1 c ham; cooked, small cubes
2 tomatoes, Mmedium, peeled
1 tb chives, chopped
Boil unpeeled potatoes 30 minutes. Rinse under cold water, peel and set aside to cool. Slice potatoes. In a large frypan cook bacon until transperent. Add the potato slices; cook until lightly borwned. Meanwhile blend eggs with milk and salt. Stir in the cubed ham. Cut the tomatoes into thin wedges; add to the egg mixture. Pour the egg mixture over the potatoes in the frypan. Cook until the eggs are set. Sprinkle with chopped chives and serve at once. Makes 4 servings.

Gegrillte Bratwurst
(Grilled Bratwurst)
6 bratwursts (german sausage)
12 oz (1 can) beer
1 medium onion, chopped

6 peppercorns
4 cloves
6 hard rolls
Place bratwursts, beer, onion, peppercorns, and cloves in a 3- quart saucepan. Simmer for 20 minutes. Drain. Grill bratwursts 2 to 5 inches from charcoal about 10 minutes, until browned. Sprinkle with water to form a crisp skin. Serve in hard rolls with Dusseldorf-style mustard. Serves 6.

Falsche Hase
(False Hare - German Meatloaf)
1/2 lb ground beef; lean
1/2 lb ground pork; lean
1 onion; medium, chopped
3 tb bread crumbs
3 tb water; cold
2 eggs; large
1/2 ts salt
1 ts paprika
1 ts mustard; prepared
2 tb parsley; chopped

3 hard cooked eggs; peeled
4 bacon; strips
4 tb vegetable oil
1 c beef broth
Sauce:
1/4 c water; hot
1 ts cornstarch
1/4 c water
1/2 c sour cream
pepper and salt (optional)
Thoroughly mix ground meats, onion, bread crumbs, 3 t cold water, and eggs. Flavor with salt, praprika, mustard, and parsley. Blend ingredients thoroughly. Flatten out meat mixture in the shape of a square, (8 X 8-inches). Arrange whole hard- boiled eggs in a row along the middle of the meat. Fold sides of meat pattie over the eggs. Shape meat carefully into a loaf resembling a flat bread loaf. Occasionally rinse hands in cold water to prevent sticking. Cube 2 strips bacon; cook in a Dutch oven about 2 minutes. Carefully add the vegetable oil; heat. Place meatloaf in the Dutch oven and cook until browned on all sides. Cut remaining bacon strips in half and arrange over the top of the meatloaf. Place uncovered Dutch oven in a preheated oven for about 45 minutes. While meat is baking, gradually pour hot beef broth over the top of the meatloaf; brush occasionally with pan drippings. When done remove meat to a preheated platter and keep it warm. Add 1/4 cup of hot water to pan and scrape all particles from the bottom. Bring to a gentle boil and add cornstarch that has been mixed with 1/4 cup water. Cook until bubbly and thick. Remove from heat and stir in sour cream. Reheat to warm. Season with salt and pepper if desired. Serve the sauce separately. Serves 4.

Bamberger Krautbraten
(Bamberger Meat and Cabbage)
1 lb cabbage; head, small
2 ea onions; medium, chopped
1 lb ground beef; lean
1/2 ts salt
1/2 c white wine; dry
3 ea bacon; strips, thick sliced

1 tb vegetable oil
1/2 lb pork; lean, cubed
1 ts caraway seed
1/2 ts pepper
1 ts vegetable oil
Remove outer, wilted cabbage leaves and core. Place cabbage in a large pot of boiling water and simmer gently for 10 minutes. Remove and drain. gently pull off 12 leaves and set aside. Finally chop the rest of the cabbage. Heat 1 t vegetable oil;add onions, pork, and ground beef. Cook until lightly browned. Drain off excess fat. Add the chopped cabbage, caraway seeds, salt, and pepper. Pour in the white wine. Cover and simmer the mixture for 10 minutes, stirring often. Grease an ovenproof dish with 1 t of vegetable oil; line the dish with half the cabbage leaves. Spoon in the meat mixture, cover with the rest of the cabbage leaves. Cut bacon strips in half and arrange on top. Place in preheated 350°F. oven; bake for approximately 45 minutes. Serves 4.

©2002 - Germany


The German Corner is property of The Garden of Friendship Global Recipes



Background set by
~*~Barbiel~*~