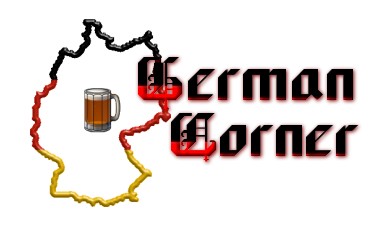 Main Dishes

Complete Meals




Rindfleischeintopf
(Beef Stew)
1/4 c shortening
3 lb rump roast; boneless
2 c onions; sliced
1/4 c unbleached flour
2 tb salt
2 tb sugar

pepper to taste
2 ts mustard; dry
1/2 ts celery seed
1/4 c water
1 lb tomatoes; (1 can)
Melt shortening in a Dutch oven. Add the meat and brown on all sides. Place the onions on top of the meat. Mix the flour and seasonings with 1/4 c water. Blend with the tomatoes and add the misture to the dutch oven. Bake at 325 degrees F about 2 hours, until the meat is fork-tender. Serve with oven-browned potatoes. Makes 6 servings.

Spätzle
(German Homemade Noodle)
2 eggs
2 tablespoons freshly rendered lard or oil
1/2 cup water
1/2 cup milk

2 1/2 cups all-purpose flour
2 1/2 teaspoons salt
1/4 teaspoon baking powder
4 quarts water
Using an electric mixer, blend the eggs, lard or oil, water and milk. Stir the flour together with 1/2 tsp of the salt and the baking powder in a dry bowl. Blend this mixture into the liquid. Mix well and set aside for a moment. Bring 4 quarts of water to a boil and add 2 tsp of salt. Using a spaetzle maker or spaetzle press squeeze the dough into the boiling water. Use about 1/3 of the dough for each batch. When the dumplings float to the surface, they are done. Remove them with a slotted spoon and place in a colander. They can be served with paprika gravy or pan fried with a little butter, just until they are a bit golden, and topped with parsley or any other sauce you like (tomato, spinach, mushrooms, sour cream etc). Makes 4 servings.
Note: These dumplings can also be made by using piping bag or dropping very small amounts from a spoon.

Brathähnchen
(Fried Chicken)
1/3 cup vegetable oil
1/3 cup butter
1 cup all-purpose flour
1 teaspoon salt
2 teaspoons black pepper

2 teaspoons paprika
1 teaspoon garlic salt
1 teaspoon dried marjoram
10 pieces chickens

Place oil and butter in a shallow cooking pan and place in 375ºF oven to melt butter, set aside. In a large paper sack, combine dry ingredients. Roll the chicken pieces, 3 at a time, in butter and oil then drop into a sack and shake to cover. Place on a plate until all pieces are coated. Leave any excess butter and oil in pan. Place chicken in the pan skin side down (or its just as good if you remove all the skin first). Bake at 375ºF for 45 minutes. Turn chicken pieces over and bake 5 to 10 minutes longer or until crust begins to bubble. Makes 10 pieces.
Note: Tastes fantastic with a green/cucumber salad.

Kräuterplinsen mit Quark
(Quark Pancakes with Herbs)
about 1 cup Quark
4 tablespoons wholewheat flour
2 eggs, separated

2 tablespoons mixed, chopped herbs
salt, pepper
cooking oil
Place the Quark in a cheesecloth-lined sieve and allow to drain. Beat together flour and egg yolks. Stir in well-drained Quark, along with herbs. Add salt and pepper to taste. Beat egg whites till stiff and mix with the other ingredients. In a shallow frying pan, heat the cooking oil. Drop about 1 tablespoon of Quark mixture into pan, press flat with spatula and brown on both sides (you may need to add more cooking oil before turning). Hold pancake in a warm oven. Continue in this way until mixture is finished. Serve immediately. Serves 2.
Note: For a very elegant, light meal, you may top the pancakes with creme fraiche and caviar and serve with a salad.

©2002 - Germany


The German Corner is property of The Garden of Friendship Global Recipes



Background set by
~*~Barbiel~*~