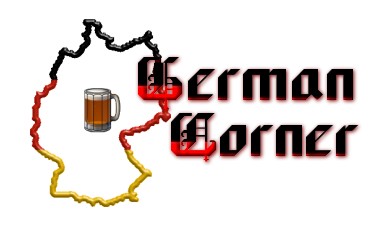 Side Dishes

Salads




Gurkensalat
(Cucumber Salad)
2 large cucumbers
2 tablespoons cider vinegar
1 tablespoon sugar
1/2 teaspoon salt

1/4 teaspoon pepper
3/4 cup sour cream
2 tablespoon minced fresh parsley



Peel cucumbers and cut into very thin slices. Mix together vinegar, sugar, salt, and pepper and pour over cucumbers. Marinate about 20 minutes. Drain off liquid, toss cucumbers with sour cream. Top with fresh parsley and serve. Serves 4-5.

Kartoffelsalat
(Warm Potato Salad)
10 medium potatoes (about 3 pounds)
1 can (14 1/2 ounces) Beef Broth
1/4 cup all-purpose flour
3 tablespoons sugar
1/2 teaspoon celery seed

1/2 teaspoon salt
1/8 teaspoon pepper
1/4 cup cider vinegar
1 medium onion, chopped (about 1/2 cup)
3 tablespoons chopped fresh parsley
In Dutch oven place potatoes. Cover with water. Over high heat, heat to a boil. Cook 20 minutes or until tender. Drain. Cut into cubes. In medium saucepan gradually mix broth into flour, sugar, celery seed, salt and pepper until smooth. Add vinegar and onion. Over medium heat, cook until mixture boils and thickens, stirring constantly. Reduce heat to low. Cook 5 minutes or until onion is tender. In large bowl toss potatoes, parsley and broth mixture until evenly coated. Serve warm. Makes about 12 servings.
Note: you can also use bacon dices instead of Beef Broth.

2 cups wide egg noodles
4 slices bacon, cut in match stick pieces
1/4 cup chopped onions
1 clove garlic, minced
1 tablespoon sugar
1 tablespoon all-purpose flour
1/2 teaspoon celery salt or salt
fresh ground pepper, to taste

1 teaspoon dry mustard
1/2 cup water
1/4 cup apple cider vinegar
1/2 cup chopped celery
1–2 tablespoon chopped fresh parsley, to taste
1/2–1 tablespoon dry dill, to taste
1 pinch red cayenne pepper, if desired
Cook noodles according to the package directions. While the noodles are cooking, saute bacon in a large skillet, until lightly browned. Set aside. Reserve 1 Tablespoon of the drippings and saute onion, celery and garlic until tender, not brown. Stir in the sugar, flour, salt and mustard, dill and pinch of cayenne red pepper, if desired. Combine water and vinegar, add slowly, stirring constantly to avoid lumps, for about 2-3 minutes, until thickened. Rinse and drain noodles; add noodles, bacon and parsley to skillet. Heat and serve immediately. Serves 4-6.

Herring Salad
(A traditional fish salad)

1 (8 ounce) jar herring in wine sauce, drained and cut into 1/2 inch slices
2 medium potatoes, peeled, diced, cooked (3 cups)
2 medium onions, minced (1 cup)
1 tart apple, pared,cored,and diced (1 cup)
1 cup diced cooked beets
3/4 cup finely chopped dill pickles


1/4 cup red wine vinegar
2 tablespoons sugar
2 tablespoons water
1/8 teaspoon pepper
lettuce leaves
1 egg, hard-cooked,sliced
Combine herring, potatoes, onion, apple, beets, and pickle in a large bowl. Mix together vinegar, sugar, water and pepper in a cup; mix well. Pour over salad and toss gently; cover.
Refrigerate for at least 4-5 hours for all flavors to blend, tossing once or twice. To serve, mound salad on lettuce leaves and garnish with egg slices. Serves 4-6.

©2002 - Germany


The German Corner is property of The Garden of Friendship Global Recipes



Background set by
~*~Barbiel~*~