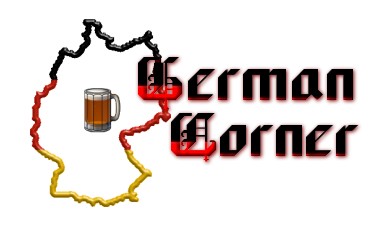 Side Dishes

Soups




Bohnensuppe
(German Bean Soup)
1/2 lb white beans, soaked overnight in water to cover
8 cups water
1/2 cup cubed bacon or country ham
1/4 lb green beans, cut into bite-sized pieces
1/2 celery root, peeled and cut into bite-sized cubes (if you can't find celeriac, use 2 stalks of celery, cut into cubes)
1 carrot, peeled and cubed
1/2 leek, sliced into thin rings
1 tablespoon flour

1 onion, roughly chopped
1 parsley root, cubed (or 1/2 cup chopped parsley)
1/2 lb small red potatoes, unpeeled and cubed
1 tablespoon marjoram, crumbled between your palms
1 teaspoon thyme, crumbled between your palms
2 bay leaves
1/2 cup parsley, chopped
1 tablespoon butter
Drain the soaked beans, then put in a kettle with 8 cups of water and the bacon. Bring to a boil over medium heat, then reduce heat, cover, and simmer for an hour. Add the green beans, celery root cubes, carrots, leeks, onion, parsley root (or parsley), potatoes, marjoram, thyme, and bay leaves. Bring back to a boil, reduce heat, and simmer for another hour. While the soup is cooking, melt the butter over low heat in a saucepan. Stir in the flour and let it brown very very slowly, stirring occasionally,this could take an hour, if you keep the heat low enough. When ready, stir in a little of the soup stock, whisk for a minute, then stir into the soup kettle. Season with salt and pepper and cook uncovered, stirring from time to time, for 10 minutes. When ready to serve, stir in the parsley, remove the bay leaves, adjust the seasoning, then ladle into soup bowls and serve immediately. Season with salt and pepper. Serves 4-6.

Bier Suppe
(Sweet Beer Soup)
1 quart beer
2 tablespoons flour
1 tablespoon sugar
cinnamon

1 quart water
4 eggs
2 grated fresh lemon rind
Mix ingredients in cooking utensils. Heat over strong heat until it boils. Remove at once, add bread croutons and serve. It states"cooking utensils", in other words a soup pot. Makes 2 quarts.

1 lb smoked Polish sausage, cut in 1/2 inch pieces
1 tablespoon oil
5 potatoes, peeled,and diced
2 carrots, chopped
4 (14 ounce) cans chicken broth
1 teaspoon garlic, minced

1/4 teaspoon caraway seeds, optional
1/4 teaspoon pepper
1/4 teaspoon thyme
1 (32 ounce) can sauerkraut, rinsed and drained
1 (6 ounce) can tomato paste
In large pot, brown sausage pieces in oil. Add next 7 ingredients; bring to a boil. Reduce heat, cover and simmer for 20 minutes. Add sauerkraut and tomato paste. Bring back to a boil. Cover and simmer another 15 minutes. Makes 8 servings.

Rindfleischsuppe
(German Beef Soup)
2 lbs soup bones with meat or oxtails
( well washed)
1 onion
1 dried bay leaf
3 whole cloves
5 cups cold water
2 stalks celery, diced

2 large carrots, peeled
1 tomato, quartered
2 sprigs fresh parsley
1 teaspoon salt, to taste
1 cup fine egg noodles, uncooked
salt and white pepper
Wash the soup bones well and be sure they have a nice amount of meat on them. Do not remove the skin from the onion, but wash it and pat dry. Cut a slit into one side of the onion and stick the bay leaf into the slit. Poke the whole cloves into the other side of the onion. Combine all ingredients except noodles in a huge stockpot. Bring to a boil, then lower heat and simmer 2 hours. Set a huge bowl underneath a colander and strain soup through colander. Save the meat and the carrots and discard the other boiling veggies. Dice the carrots and cut any meat chunks into bite sized pieces, discarding any chunks of fat and the bones. Set aside. Return the broth to the stockpot along with the noodles and simmer until the noodles are tender and cooked through. Return the carrots and the meat to the pot and season with a nice amount of salt and pepper, to taste. Serve hot. Makes 4-6 servings.

©2002 - Germany


The German Corner is property of The Garden of Friendship Global Recipes



Background set by
~*~Barbiel~*~