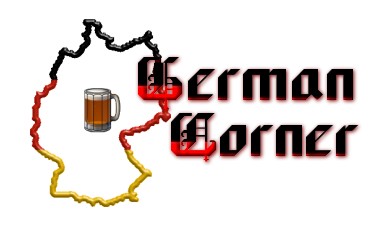 Side Dishes

Soups




Linsensuppe
(Hearty Lentil Soup)
2 cups chicken broth
1 can (12 ounces) beer or 1 1/2 cups chicken broth
1/2 cup dried lentils, sorted and rinsed
1 medium carrot, sliced (1/2 cup)
1 medium celery stalk, chopped (1/2 cup)
1 small onion, chopped (1/4 cup)

1 fully cooked smoked Polish sausage, about 5 inches long, thinly sliced (3 ounces)
1 tablespoon chopped fresh basil leaves or 1 teaspoon dried basil leaves
1/8 teaspoon pepper
1 small dried bay leaf
2 tablespoons grated Parmesan cheese
Heat broth, beer and lentils to boiling in 2-quart saucepan; reduce heat. Cover and simmer 20 to 25 minutes, stirring occasionally, until lentils are tender but not mushy. Stir in remaining ingredients except cheese. Heat to boiling; reduce heat. Cover and simmer 20 minutes, stirring occasionally. Remove bay leaf. Sprinkle each serving with cheese. Makes 2 servings.

Borscht
(Hungarian Beet Soup)
3/4 pound beef boneless chuck, tip or round, cut into 1/2-inch cubes
1 smoked pork hock
4 cups water
1 can (10 1/2 ounces) condensed beef broth
1 teaspoon salt
1/4 teaspoon pepper
4 medium beets, cooked

1 large onion, sliced
2 garlic cloves, finely chopped
2 medium potatoes, cubed (2 cups)
3 cups shredded cabbage
2 teaspoons dill seed or 1 dill weed sprig
1 tablespoon pickling spice
1/4 cup red wine vinegar
3/4 cup sour cream
chopped fresh dill weed, if desired
Heat beef, pork, water, broth, salt and pepper to boiling in 4-quart Dutch oven; reduce heat. Cover and simmer 1 to 1 1/2 hours or until beef is tender. Shred beets, or cut into 1/4-inch strips. Remove pork from soup. Cool pork slightly. Remove pork from bone; cut pork into bite-size pieces. Stir pork, beets, onion, garlic, potatoes and cabbage into soup. Tie dill seed and pickling spice in cheesecloth bag, or place in tea ball, and add to soup. Cover and simmer 2 hours. Stir in vinegar. Simmer uncovered 10 minutes. Remove spice bag. Serve sour cream with soup. Sprinkle with dill weed. Makes 6 servings.

Graupensuppe mit Hühnerklein
(Chicken Giblet and Barley Soup)
2 pounds chicken wings, necks and backs
2 pounds chicken hearts and gizzards, coarsely chopped
2 quarts cold water, or 1 quart
chicken stock, fresh or canned, combined with 1 quart water
2 carrots, scraped and coarsely chopped
2 celery stalks, including the leaves, coarsely chopped 1 tsp salt


1 small parsnip, scraped and coarsely chopped
1 onion, peeled and pierced with 2 whole cloves
freshly ground black pepper
¼ c dried mushrooms, coarsely chopped
½ c boiling water
½ c pearl barley, thoroughly rinsed in cold water
2 tbs finely chopped fresh parsley
In a 5-quart saucepan or soup pot, combine the chicken wings, necks, backs, hearts and gizzards with the water or stock and water. Bring to a boil over high heat, skimming off all the foam and scum as they rise to the surface. Add the carrots, celery, parsnip, onion with the cloves, and a few grindings of pepper. Reduce the heat to low, partially cover the pan and simmer gently for 30 minutes. Meanwhile, in a small bowl, cover the chopped mushrooms with ½ c boiling water and let them soak for 30 minutes. Then add them with their soaking liquid to the soup and pour in the barley. Stirring occasionally, simmer half covered for 1 hour, or until the barley, giblets and mushrooms are tender. Remove the wings, necks and backs from the soup with a slotted spoon. Skin them and pick the meat from the bones. Chop the meat coarsely and add it to the simmering soup. Discard the onion. Taste for seasoning and stir in the parsley. Serve from a heated tureen or a large serving bowl. Serves 4 to 6.

Kartoffelsuppe mit Gurken
(Potato Soup with Cucumber)
1 medium-sized or 2 small cucumbers
6 medium-sized boiling potatoes
(about 1½ pounds), peeled and
cut into ½-inch dice
3 c cold water
1½ tsp salt

¼ tsp freshly ground black pepper
1c heavy cream
1 c milk
1 tbs grated onion
1 tbs finely chopped fresh dill, or substitute 1 tsp dried dill weed
1 tsp salt
With a small, sharp knife, peel the cucumber and slice it lengthwise into halves. Scoop out the seeds by running the tip of a teaspoon down the center of each half. Cut the cucumber into ¼-inch dice and set aside. In a heavy 3- to 4-quart saucepan, bring the potatoes and water to a boil over high heat. Reduce the heat to moderate, add the salt and pepper and cook uncovered until the potatoes are soft and can easily be mashed against the sides of the pan; then pour them and all the cooking liquid into a sieve set over a mixing bowl. With a large spoon force the potatoes through the sieve. (If you prefer, purée the potatoes in a food mill. But don't use a blender; it will make the mixture too smooth.) However you have puréed the potatoes, return them and their liquid to the saucepan and stir in the cream, milk, grated onion and cucumbers. Simmer over low heat for about 5 minutes, or until the cucumber is tender but still somewhat firm. Add the dill and taste for seasoning. Serve hot either from a heated tureen or in individual soup bowls. Serves 6.

©2002 - Germany


The German Corner is property of The Garden of Friendship Global Recipes



Background set by
~*~Barbiel~*~