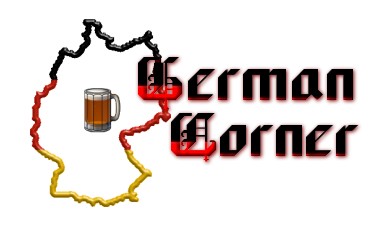 Special Ocasions


Christmas




Martinsgans mit Apfelfüllung
(Goose with Apple Stuffing)
1 ready-to-cook goose (8 to 10 pounds)
2 cups water
1 small onion, sliced
1 1/4 teaspoon salt
6 cups soft bread crumbs
3 tart apples, chopped
2 stalks celery (with leaves), chopped
1 medium onion, chopped

1/4 cup margarine or butter, melted
2 teaspoons salt
1 teaspoon ground sage
1/2 teaspoon ground thyme
1/4 teaspoon pepper
1 teaspoon salt
1/4 cup all-purpose flour

Trim excess fat from goose. Heat giblets, water, sliced onion and 1 1/4 teaspoons salt to boiling; reduce heat. Cover and simmer until giblets are done, about 1 hour. Strain broth; cover and refrigerate. Chop giblets; toss with remaining ingredients except 1 teaspoon salt and the flour. Rub cavity of goose with 1 teaspoon salt. Fold wings across back with tips touching. Fill neck and body cavities of goose lightly with stuffing. Fasten neck skin of goose to back with skewers. Fasten opening with skewers; lace with string. Tie drumsticks to tail. Prick skin all over with fork. Place goose breast side up on rack in shallow roasting pan. Roast uncovered in 350° oven until done, 3 to 3 1/2 hours, removing excess fat from pan occasionally. Place a tent of aluminium foil loosely over goose during last hour to prevent excessive browning. Goose is done when drumstick meat feels very soft. Place goose on heated platter. Let stand 15 minutes for easier carving. Meanwhile, pour drippings from pan into bowl. Return 1/4 cup drippings to pan. Stir in flour. Cook over low heat, stirring constantly, until smooth and bubbly. Remove from heat. If necessary, add enough water to reserved broth to measure 2 cups. Stir into flour mixture. Heat to boiling, stirring constantly. Boil and stir 1 minute. Serve goose with apple stuffing and gravy. Serves 6 to 8.
Note: This recipe is very appreciated by the germans during the months November to January. In the country's Catholic regions, goose is associated with St. Martin's Day (November 11).

Rinderrouladen
(Braised Stuffed Beef Rolls)
2 pound beef boneless round steak, 1/2 inch thick
salt and pepper
2 tablespoons prepared mustard
3 slices bacon, cut into halves
1 medium onion, chopped
1/4 cup snipped parsley
3 dill pickles, cut into halves

2 tablespoons vegetable oil
1 1/4 cups water
1/2 teaspoon salt
1/4 teaspoon pepper
2 tablespoons cold water
1 tablespoon flour
Parsley sprigs, wooden picks

Pound beef until 1/4 inch thick. Cut into pieces, about 7 x 4 inches. Lightly sprinkle with salt and pepper. Spread each piece with 1 teaspoon mustard. Place 1/2 strip bacon down center of each piece. Sprinkle with onion and snipped parsley. Place pickle half on narrow end of each piece; roll up. Fasten with wooden picks. Heat oil in 10-inch skillet until hot. Over medium heat, brown rolls on all sides. Add 1 1/4 cups water, 1/2 teaspoon salt and 1/4 teaspoon pepper. Heat to boiling; reduce heat. Cover and simmer until beef is tender, about 1 hour. Remove rolls and keep them warm. If necessary, add water to liquid in skillet to measure 1 cup. In a tightly covered container, shake 2 tablespoons water and the flour; stir gradually into broth. Heat to boiling, stirring constantly. Boil and stir 1 minute (add water if necessary). Top the rolls with gravy and a garnish of parsley sprigs. Red Cabbage with Apples and boiled potatoes are traditional accompaniments.

Turkey Kielbasa with Cabbage, Sweet Potatoes & Apples
1 btle (12 ounces) dark beer or ginger ale
2 tbsp Dijon-style mustard
1/2 tsp caraway seeds
1 can (16 ounces) sweet potatoes
(cut into 1-1/2-inch cubes)

1 lb turkey kielbasa or smoked turkey
sausage cut on the diagonal (2-inch pieces)
1 Granny Smith apple cut into 1/4-inch wedges
6 cups coarsely shredded cabbage

In large deep skillet over high heat, combine beer, mustard and caraway seeds. Bring to boil. Add cabbage, reduce heat to medium-low and cover. Simmer 5 to 8 minutes or until cabbage is crisp-tender. Add turkey kielbasa, apple and sweet potatoes. Increase heat to high and bring mixture to boil. Reduce heat to medium-low, cover and simmer 3 to 5 minutes or until apple is crisp-tender and all ingredients are hot. Serves 6.

Rheinischer Sauerbraten mit Kartoffelklößen und Apfelmus
(Sauerbraten with Potato Dumplings and Apple Sauce)
3-1/3 pounds rolled brisket
1 tbsp. salt
1/2 tsp. pepper
2 onions, sliced
1 carrot, sliced
1 stalk celery, chopped
4 cloves
4 peppercorns

2 bay leaves
2 tbsp. bacon drippings
6 tbsp. butter
5 tbsp. flour
1 tbsp. sugar
1/2 cup yellow raisins (optional)
8 to 10 gingersnaps, crushed
(can be replaced by 1 tsp. corn starch)
2 cups red wine vinegar
Wipe steak with damp cloth; season with salt and pepper. Place in earthenware, glass or enamel bowl. Combine onions, carrot, celery, cloves, peppercorns, vinegar and bay leaves and pour over meat. Cover and marinate in refrigerator for 4 days. On fifth day remove meat from refrigerator and drain, reserving marinade. Saute meat in bacon drippings plus 1 tablespoon butter until seared on all sides. Cover with reserved marinade and bring to boil, then lower heat and simmer for about 3 hours.
Melt remaining 5 tablespoons of butter in a pan and stir in flour to form a roux. Blend in sugar and brown to nice dark color. Stir roux into liquid in the pot and add raisins (optional). Cover and continue to simmer until meat is tender , about 1 hour longer. Remove meat to a warm serving platter. Stir crushed gingersnaps or starch into the pot juices and cook until thickened. Pour over meat. Serve with potato dumplings and apple sauce. Red cabbage makes another good accompaniment. Serves 6.
Ingredients for the Potato Dumplings:
6 medium-sized potatoes (about 2-1/4 pounds)
3 eggs
6 tbsp. flour
butter, melted and browned
bread crumbs
Boil the potatos and let stand for a few hours or overnight, still in their jackets.
Peel the potatoes and mash them. Add eggs and flour, form mixture into little balls.
Chill in the refrigerator for about an hour before cooking.
Bring lightly salted water to just under boiling point. Gently drop in a few dumplings, being careful not to overcrowd them. When the dumplings are cooked, they will rise to the top. To make sure your mixture has the right consistency, cook a single dumpling first. If it does not hold together, add more flour to the mixture.
Serve hot with melted, browned butter and bread crumbs.

Grünkohl mit Kasseler und Mettwürstchen
(Kale with Smoked Pork and Sausage)
6-1/2 lbs. kale
1/2 cup lard
2 onions, chopped
6 slices Kasseler (a smoked pork cutlet)

6 smoked Mettwürstchen, pierce casings (a small, mild sausage)
allspice
1-1/4 cup oat bran
Rinse kale, separate the stems from the leaves, discard larger, tough leaves. Wash the kale again thoroughly and parboil in salted water. Drain. Bring the lard along with 1 cup water to a simmer in a large covered pot. Add the kale, onions, meat and sausage. Season to taste with salt, pepper and allspice, then cover and let cook over low heat for about two hours. Remove the meat and sausage. Sprinkle the oat bran over the kale mixture, cover the pot and let stand for 15 minutes. Be careful not to disturb the contents or the bran will get mushy. Carefully return the meat and sausage to the pot to reheat. Serve immediately. Serves 6.

©2002 - Germany


The German Corner is property of The Garden of Friendship Global Recipes



Background set by
~*~Barbiel~*~